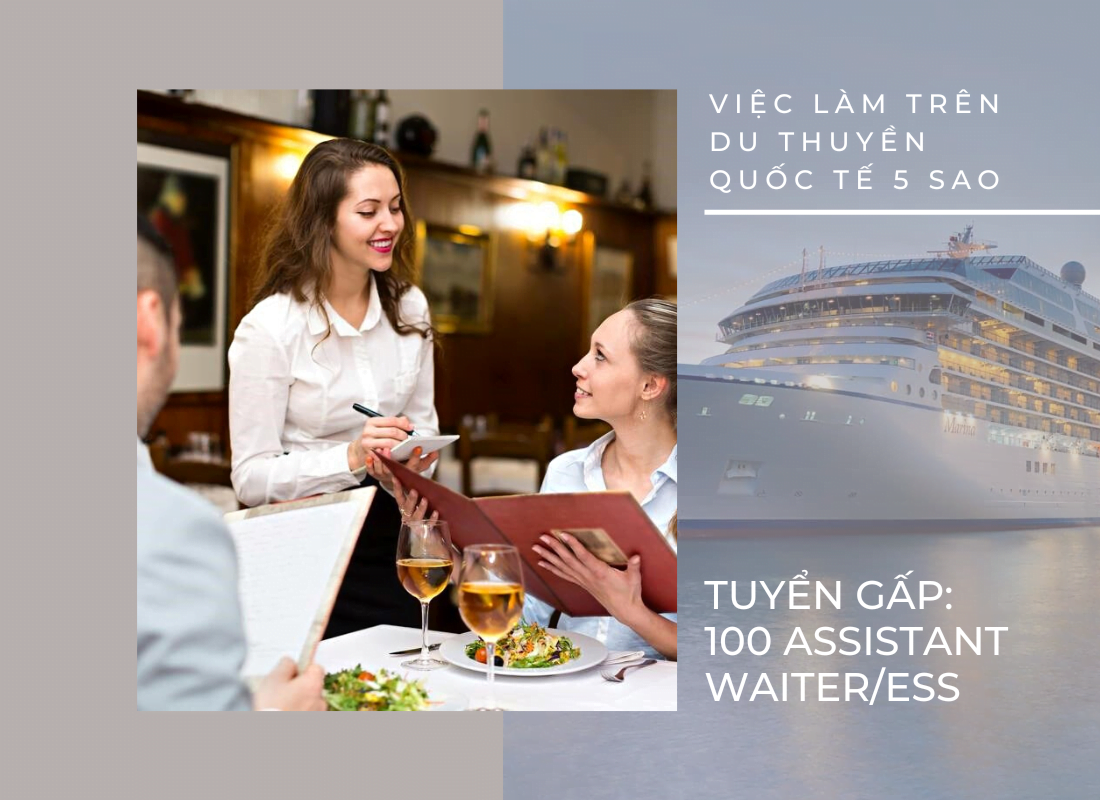 Department: F&B
Sub-Department: Restaurant
Reports To: Restaurant Manager, Assistant Restaurant Manager, Maître D', Headwaiter,
Deputy Headwaiter, Room Service Supervisor.
Position Summary

The primary responsibility of the Assistant Waiter/Waitress is to assist the Waiter in providing and maintaining the
service standards using friendly, courteous, and professional service in any assigned venue.
Essential Duties and Responsibilities

Operational
Offer and refill water, bread, butter, and beverages
Transport food from the galley to the respective section and return dirty trays according to USPH and
breakage prevention standards.
Maintain clean and orderly tables.
Set up, organize and clean assigned station according to USPH standards
Offer condiments and fresh pepper.
Possess full knowledge of the menu.
Possess ability to describe and serve food selection from the buffet.
Assist with embarkation, debarkation and luggage handling duties when required.
Perform Room Service duties when requested by supervisors.
Handle all ship equipment with care and report any faulty/broken equipment.
Perform general cleaning and maintenance according to U.S.P.H. standards.
Assist management with coaching and introduction of new personnel.
Participate in a training program to develop skills and to prepare for future promotion.
Project a favorable image of the company, promote its aims and objectives, and foster and enhance public
recognition and acceptance of all its areas and endeavors.
Be aware of all events and activities on the ship.
Achieve the primary objectives of the position and comply with the above-mentioned accountabilities in a
timely and efficient manner in accordance with SSSL policies.
Possess full knowledge of current U.S.P.H rules and regulations and maintain U.S.P.H standards at all times.
Ensure that the assigned location is up to U.S.P.H. standards.
Training & Development
Attend all meetings, training activities or classes related to assigned position as required
Safety Responsibilities

Possess familiarity with the vessel layout in terms of safety and security.
Have a full understanding of ship rules and regulations (SMS).
Participate in all required safety drills/training.
Ensure that all safety procedures are followed.
Cooperate with the Staff Captain in adhering to the Ship's Safety Program.
Follow the Ship Rules & Regulations.
Maintain a safe and sanitary environment for all guests and crew members.
Follow proper procedures and instructions at all times to prevent damage of any kind to ship or company
property.
Participate in safety drills as required.
Qualifications
Knowledge, experience, skill, and/or ability
Required
Positive attitude at all times.
Well-groomed and neat appearance.
Team player.
Outgoing personality
Open minded and flexible.
Fluent in written and spoken English.
Communicate effectively with the senior management.
Good administrative skills.
Must be cost and quality conscious.
Adhere to specific scheduled work hours,yet be flexible if circumstances require it.
Work with international team members.
Perform assigned duties under pressure (time constraints).
Preferred
Hospitality experience.
Fluency in additional language(s)
Cruise Ship Experience.
Required computer skills
Knowledge of Microsoft programs to include but not limited to, Outlook, Word, Excel, and
Power Point and electronic Waiter System.
Education/experience/certifications
Elementary and middle school education (8th grade) or higher.
Experience in an upscale Hotel/Restaurant environment of at least 1 year.
STCW (preferred).
Equivalent combination of education and experience.
Other Skills:
Knowledge of general office practices, procedures and equipment.
Ability to prioritize tasks and work independently.
Strong organizational, interpersonal and communication skills.
Ability to interact with senior-level management and owner representatives.
Math Ability:
Able to add, subtract, multiply and divide in all units of measure using whole numbers,
common fractions, and decimals.
Reasoning Ability:
Ability to apply common sense understanding to carry out instructions furnished in written,
oral, or diagram form.
Ability to deal with problems involving several concrete variables in standardized situations.
Work Environment & Physical Demands:
The physical demands described here are representative of those that must be met by an employee
to successfully perform the essential functions for this job. Reasonable accommodations may be
made to enable individuals with disabilities to perform the essential functions.
While performing the duties of this job the employee is regularly required to:
* Stand
* Use hands to finger, handle, or feel
* Reach with hands and arms
* Talk or hear and smell
– The employee must be able to lift or move up to 55 pounds (25 kilograms) without assistance.
Thông tin liên hệ
CÔNG TY CỔ PHẦN DỊCH VỤ NHÂN LỰC TOÀN CẦU (GMAS)
Trung tâm đào tạo: 2/83 Phan Thúc Duyện, Phường 4, Tân Bình, TP HCM
E-Mail: hongphucnguyen@gmas.com.vn
Tel: (028) 5449 0805
Hotline: 0902963918